BY MOMVSBOYS ON OCTOBER 6, 2012 11 COMMENTS
Do you remember playing The Game of Life as a kid? I used to try to fill my car up with as many babies as possible! Today when I look back in my van full of carseats, I feel like I have won the game!  Either that or I should have really aimed for something higher! lol
CAA is giving you the chance to play The Game of Life for some pretty great prizes!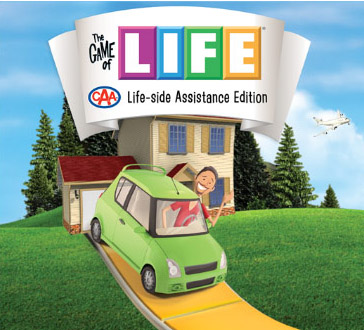 Visit the CAA Website or Facebook app to play
THE GAME OF LIFE – CAA Life-side Assistance Edition

It's really just like the board game where you pick yourself a vehicle, spin, and run into different scenarios on every square of your journey! It's really fun!
The Prizes are amazing! Which travel adventure would you choose?

Seriously!! Can you just imagine 15 days in Peru?? Cross that off the bucket list!!
With no babysitter for the boys and a family of five, not four, ruling out the awesome Orlando package, I have my eye on the daily prizes which include:
Gift Cards for Petro-CanadaTM,  Best Western, Cineplex®, East Side Mario's and more!
In fact there is a whopping 8,830 Instant Win Prizes available to be won!
Contest open to those who reside within the club territory of CAA South Central Ontario, and who are 18 years and over. Contest runs from September 24, 2012 to November 18, 2012.
For full contest rules, including details on the travel prizes please go HERE
You Can Play Every Day!
As the Queen of locking her keys in her car, I know the benefits of having a CAA membership first hand. CAA is peace of mind in my pocket, that someone will come and rescue me no matter where I am! But CAA is more than roadside assistance! You'll learn more about other ways CAA can help you out and even save money while playing the game!
Tweet